The Concrete Pump Trader began as a publication to help buyers and sellers of new and used Concrete Pumping equipment exchange information and assist with the logistics of the sale of equipment. We continually strive to help buyers and sellers find each other by keeping our listings of available equipment as up to date as possible.
To get on our mailing list for your free copy and regular mailings of Dura-flow special, Contact Us with your company name and address.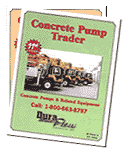 To this end, we have made the move to the Internet as it alone provides the dynamic and instantaneous information our customers demand. Now, our data base is no longer updated weekly, it is updated daily, providing all parties involved with the most current information available. Please view all the options available on our site, from searching for a particular piece of equipment, to posting a request to find a piece of equipment, to listing your pump for sale with Dura-Flow. We hope you find this a useful tool for your business.
Dura-Flow has achieved growth every year since it's inception by paying strict attention to new trends and developments in the concrete pumping field and by developing that have superior wear characteristics to the competition. Dura-Flow has also grown through a program of diversification.
Each and every year the company takes on new lines and explores new business possibilities. From strictly pump parts, Dura-Flow has expanded to carry and represent both New and Used, Boom and Line pumps.
We have achieved a solid reputation in the marketplace through quality, excellence in service, careful research, and responding to our customers needs. At Dura-Flow, we're not satisfied until you are.